Enjoy your meal!
Dear guests, we look forward to welcoming you in our house.
Our comfortably furnished restaurant in the enchanting Polenztal has 95 seats, divided into two rooms, which can be arranged differently according to your wishes. These are often used for various celebrations.
Our beer garden, which is located directly in front of the restaurant, offers more than 96 seats. The adjoining barbecue terrace can be arranged for about 40 people. For our little guests there is a nice playground.
Free parking for guests of our inn - also for 1 – 2 coaches are located right in front of the house.
Many guests think, the location of our pension & Gaststätte Polenztal is simply indescribable - the cuisine is wonderful, you must have seen and tasted it. So ... see for yourself!
Welcome!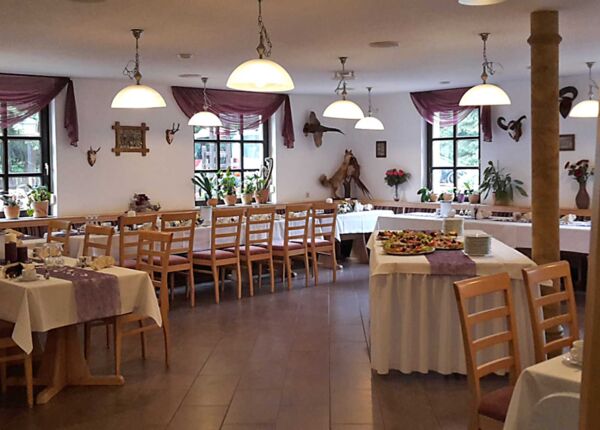 Fresh, rich and from here:our breakfast
Even Grandma knew it: as early as an emperor ... That is why we serve the most important meal of the day for our guests from 7.30 a.m. to 10.00 a.m.
Enjoy a rich, vital buffet with the best ingredients - mostly from the region and have breakfast in a relaxed atmosphere in the cosy restaurant. You will see and taste: this is how the day can begin!
By the way: Like an emperor, you can of course also dine à la carte during our opening hours.
Small snacks from our menu
Our kitchen offers a selection of hearty main dishes as well as delicious appetizers and desserts. In addition to game and fish dishes, we also offer horse dishes. We quench thirsty throats with Radeberger Pilsner, Krusovicer Schwarzbier and Allgäu Büble, Meissen wine, mineral water, juices and much more.
For your big and small celebrations we offer different buffets or menus.
A small excerpt from our menu
Appetizers
Soljanka with sour cream and rolls
Goulash soup with rolls
Main dishes
Bratwurst with sauerkraut
Chicken fillet baked with tomato and mozzarella with broccoli
Pork schnitzel with Kaiser vegetables
Beef roulade with red cabbage
Wild goulash with red cabbage
Roast venison with red cabbage
Horse roulade with red cabbage
Baked potato with herb quark, tzatziki and fresh herbs
Large salad plate with yoghurt dressing with ham or grated cheese or tuna
Trout by Müllerin-species
Vegetarian/Vegan
various omelets
Spinach strudel with tofu and herbs Rösti
Sweets
Various ice cream cup variants for every taste
Warm apple strudel with a scoop of vanilla ice cream and whipped cream
2 quark cubes with raisins and apple sauce