Our house in the Polenz Valley
Our guest-house lies in the most beautiful valley of Saxon Switzerland, the charming Polenztal valley between Hohnstein Castle and the Hockstein heights.
Built amid forests and small meadows by the idyllic, babbling River Polenz, surrounded by steep rock walls, the "Pension and Inn Polenztal" is situated on the most popular German hiking trail, the Malerweg Trail. This section of the trail runs along the Trail of German Unity and the E10 hiking trail.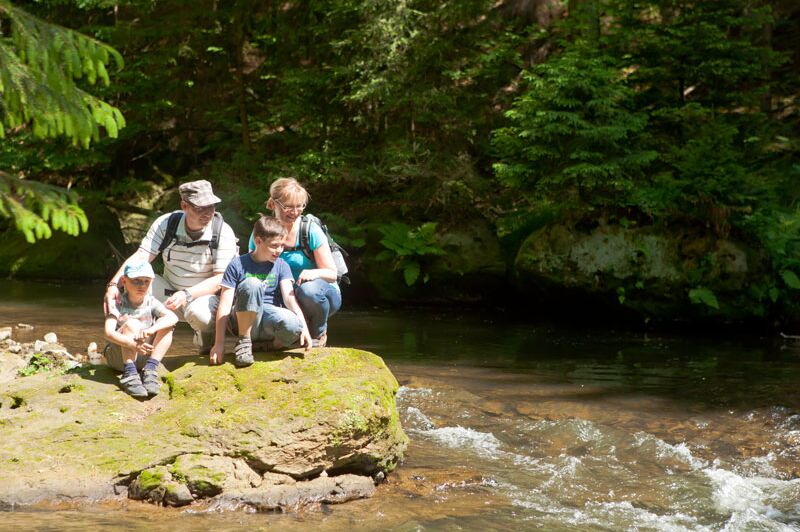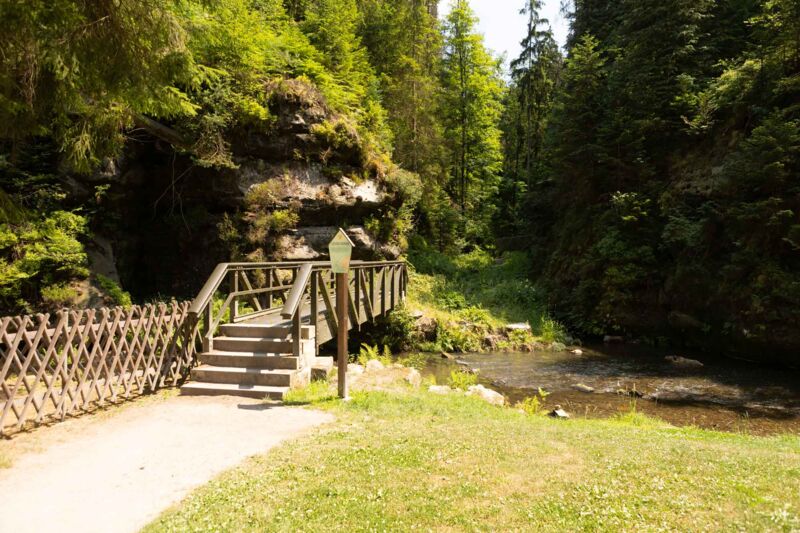 The Polenztal
Polenz is the name of a little river in Saxony. In its lower course it flows through the western Elbe Sandstone Mountains in a canyon-shaped valley. The river springs from nine sources on the German-Czech border, south-west of the 461-m-high Roubeny (Raupenberg) hill.
The upper course of the River Polenz forms a natural border between the Hohwald mountain range and Saxon Switzerland. In our area it meanders down south-west through a narrow, deep valley. The upper part of the Polenztal valley is part of the Polenztal nature reserve.
Near our inn the Polenz crosses what is known as the Lausitzer Überschiebung (Lusation Overthrust), the fault where the tectonic plate of the Lusatian granite has ridden up over the sandstone layers of the Elbe Sandstone Mountains. This place is marked by a sudden change in the shape of the valley, from the V-shape typically formed by granite to a canyon-type shape with high, steep sandstone walls. This change of shape is due to the different weathering processes of the two types of stone. The mountain ranges on either side of the River Polenz with their cliffs, ravines and grottos are popular with hikers. Having reached approx. 31.3 km, the Polenz unites with the River Sebnitz to form the Lachsbach.
The Polenztal valley is famous for the occurrence of rare plants. Near the Bockmühle mill there is the "Märzenbecherwiesen" nature reserve, the largest occurrence of wild snow-flakes (Leucojum vernum, a relation of the snowdrop) in Saxony and a popular excursion in the spring. The Saxon association for the preservation of local traditions has made efforts to protect this population since 1928. Apart from snow-flakes, other rare species including wild goose-berries and cotton grass are to be found here. Since 1995 a cross-border project has been in place for the renaturalization of the salmon in the River Elbe and some of its tributaries, including the Polenz. The project is a success: salmon, along with trout, live in the River Polenz again. The fry come from a trout and salmon rearing plant that was established in Langburkersdorf.
origin:
Hydrologisches Handbuch Teil 3 - Freistaat Sachsen - Landesamt für Umwelt und Geologie
www.saechsischer-heimatschutz.de